Customer Feedback
Good morning, Bob!
I just ordered the 8-panel expansion for our base kit. The kit is great! We had no trouble putting it together and really love how it looks. So do our neighbors (we had a few "touring" this weekend)!
-Wendy H., Fairport, NY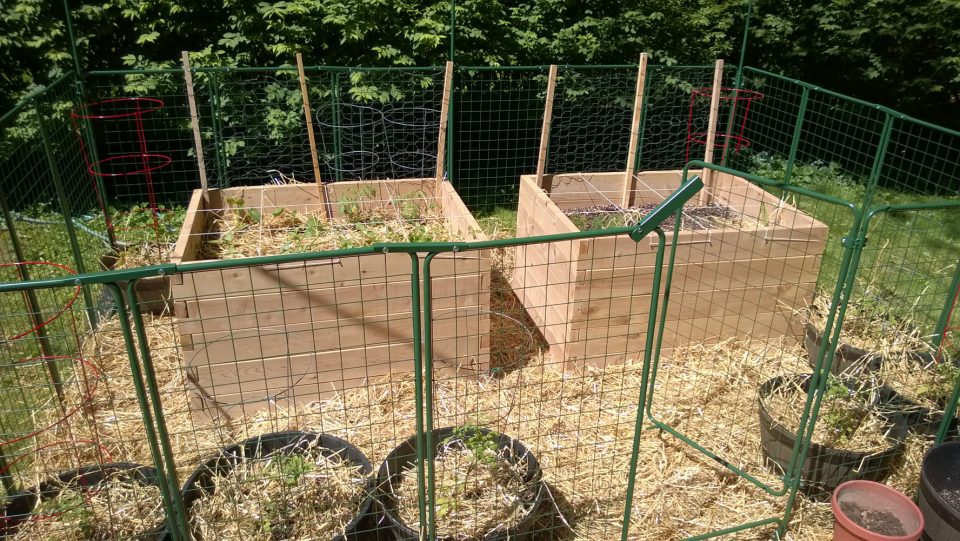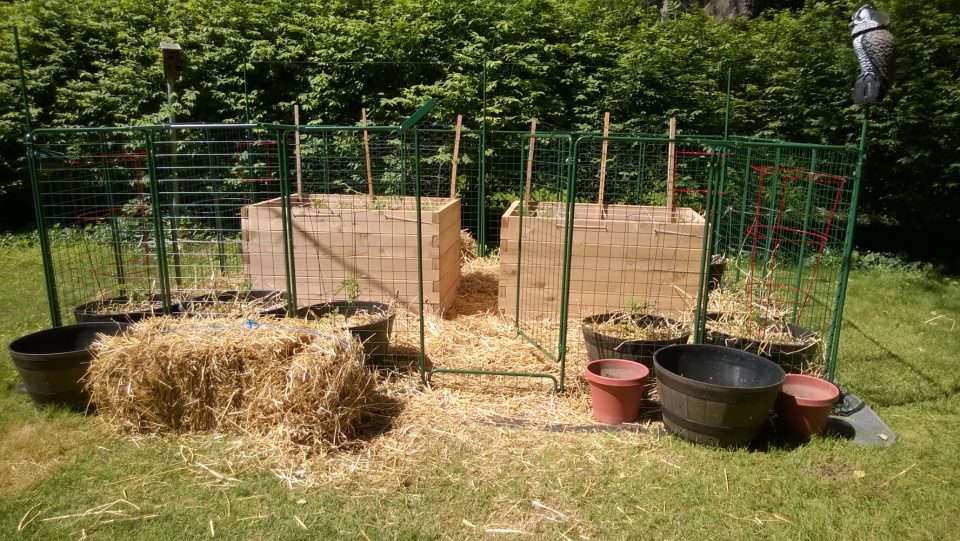 Part I: Hello. I enjoyed reading about your product and am convinced by your story and the reviews of those who purchased your product. I actually found your story/product via Pinterest. Have already told my neighbor and have given them your information. Their garden is much farther along than mine so they are using every trick in the book attempting to keep deer away. I decided to buy the fence then plant my garden.
Part II: Hello Robert. Just want you to know my fence is up and protecting my vegetable garden. I can't say the same for my neighbor's garden. He was so frustrated on yesterday morning. The deer had eaten most of their plants. This picture is about two weeks old. The fence was easy to install and blends in quite well.
—Bessie L., Orlando, FL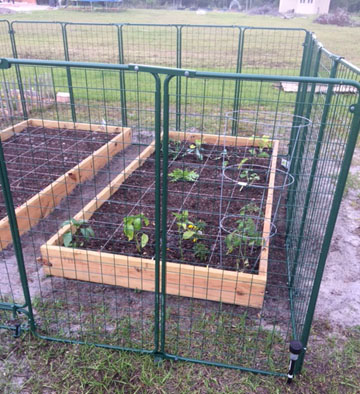 ---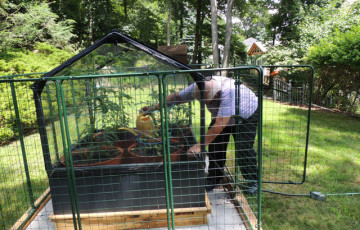 I thought you might like to see how my tomato house turned out. I received the new gate for the back but haven't installed it yet. I will install it before tomatoes get ripe. The little house is a four by four CampGrow house. I put 1 inch by 1 foot square paving blocks all around the outside and the CampGrow sits on a deck made of 1 x 6 treated decking boards with 1/8 inch cracks. The fence is anchored to 4' x 4' landscape timbers nailed together at the corners with large spikes. Tomatoes are planted in very large pots using a mix of top soil, cow manure, vermiculite, and compost. I used Jobes tomato spikes when I first transplanted the tomatoes. I am adding Kool Bloom high potassium zero nitrogen fertilizer in these pictures to accelerate tomato production. I water them twice a week using a hose and timer. The tomatoes are heirlooms and are growing very nicely so far. Lots of flowers. I plan to plant basil around the tomato plants which is quite compatible and goes great in tomato salad. I absolutely love fresh garden grown tomatoes. If the deer or ground hogs or birds get into this, I give up. Thanks for all your help. I had a wonderful time building this. —Doug R. & Carol O., Rockaway, NJ
---
Hello!! Attaching a picture for you. Garden is all set up and ready for growing. I put the system around existing boxes then mulched around the inside. This is great -deer will need to look elsewhere for tomatoes this year!! —Sally H., Sand Springs, OK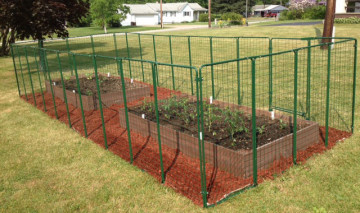 ---
Hey Bob! Here's a quick pic of the garden freshly planted. Looking forward to another season of good growing.
—Stan C., W. Milford, NJ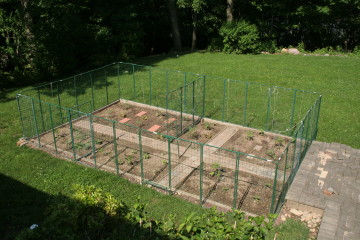 ---
Hello Bob, just to thank you for the quick service and to say the fence is a great product. I am waiting for the rain to stop so I can get the soil, thanks again. Regards. —Bob R., Lakeville, PA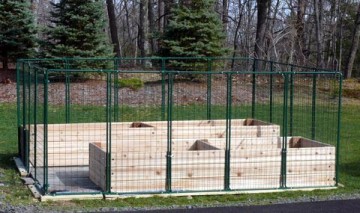 ---
Bob, just a note to say thanks for everything regarding our purchase from you. I thought you might like to see how our project turned out so since we just finished the raised beds today, here's a few pics. We had some very uneven land to deal with so it was nice that the fence had a little flexibility to work with (unlike the raised beds but that's another story.) As you can see, we did the 18' x 12' setup: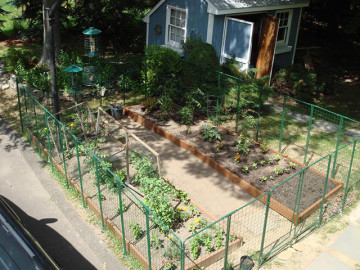 ---
And since I had two gates in the package that was sent, I used them to make a double-wide saloon-style entry that you can see in the second pic. Thanks again for all your quick replies and support. We have already gotten several compliments and inquiries regarding the fencing and we will recommend anyone who asks to go check out your website.
—Jim & Tracy Garthwaite, CT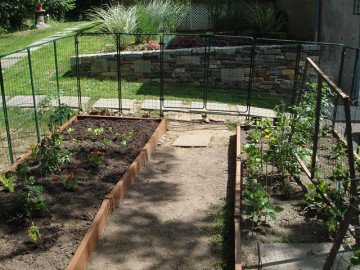 ---
We love our fence!  Assembly was very easy. Rabbits no longer nibble on our tomatoes and our puppy can't dig in the garden. I am ordering an expansion kit for more room. Thanks for a great product.
—Shirley, Nashville, TN
---
Thanks Bob! The Garden Defender did a great job protecting my tomatoes and broccoli last year. Now I need more space.
—Michele C., Waltham, MA
---
Bob, I have been very happy with the garden defender. Thanks again! Just one question – I am guessing I need to bring it inside for the winter – is a shed ok? Thanks!
—Linda S., Gary, IN
Linda, Thank you for your note. The Shed would be perfect. —Bob
---
This garden protection works great! Easy to assemble. It is easy to get in and out of my garden to pick the upcoming weeds. Even my wife likes as it doesn't snag my clothes like chicken wire used to. Great looking site, easy to buy and prompt delivery. This is going to make my garden a real success this year. I'm look forward to using it each year.
—John & Betsy, Randolph, NJ

---
G'day! We had a nest of rabbits in our old garden and had to do something about it. We checked with local fence companies and turned to the internet for options that we could pursue. When I located your website I was sold. It was that pouting rabbit and pouting deer on the outside of the garden fence that communicated the message I was ready to receive. Our UPS driver complained at the weight of your boxes but I rushed to the curb with a wheelbarrow to shut him up.
---
It was a fun day when my wife and I put the fence together. We planted immediately and water was all we had to worry about. OK, there were weeds too! But, there were no rabbits or deer that bothered us again. Looking forward to your expansion offer next spring. Enjoy the harvest!
—Rob K., Williamston, MI

---