Why Choose The Garden Defender?
Why we created The Garden Defender  Fence Protection System
Bob Hannigan
(inventor and owner) first started growing vegetables after moving to New Jersey (the 'Garden State') in 1997. He stopped in 2003 due to three consecutive years of having his garden destroyed by mostly deer. It was not a gradual thing with deer as they can eat an entire crop overnight. Bob soon realized that a simple modular fence system with a doorway was the need. Traditionally, there are 4 different types of products that are either ineffective or are a nightmare to work with for a backyard gardener. The solution is
The Garden Defender.
The following represent other forms of protection. You be the judge!
Posts/Chicken Wire – Traditional form of protection. Effective but very ugly and no doorway. By the end of the year, the rusty mess must be thrown away. Wife/husband/friend to build again next year.
Posts/Green Vinyl – Inexpensive and effective for about 3 hours a day when the sun is directly overhead. Ground animals can eat right through it. Easily stretched out of shape by wind. No doorway for convenience.
A sloppy mess that must be thrown away by the end of the year.
Posts/Netting – Kits are generally sold on the Internet and sold in Lowes and Home Depot. Better looking than chicken wire and vinyl but a total nightmare to work with in constructing the unit and stability thereafter. They stretch and become loose over time. Again, animals can eat gnaw the netting. If it lasts a year, you are doing well. These types of kits may provide a flimsy doorway, which generally requires a reconstruction process the following Spring.
Deer Repellant – We see these companies at Gardening Trade Shows. Imagine using chemical repellants around your home grown vegetables. Are there two different types of repellant? Yes, one for deer and one for the rabbit. These companies either charge you for application or they sell you the repellant. Don't forget to apply your liquid fence. When it rains you'll need to reapply.
With the newly developed, dependable and durable fencing products, The Garden Defender  had Bob back in business of growing his own vegetables! He no longer worries over having his garden destroyed by the local wildlife.

The solution was a specially constructed steel and rust resistant modular fence system with doorway — The Garden Defender!
The Garden Defender  started selling our units commercially in 2006. Since this time, we have The Garden Defender  in all 48 contiguous states. Since then, well over 4,000 units have been sold. We are proud to state that we never had a unit returned!
Many customers of ours had tried wire cones and individual cages but they would just be knocked over.
Stakes and chicken wire were also a problem because they are an eyesore and difficult to enter and exit for maintenance. Stakes and netting or vinyl can be eaten through and winds affect the construction. Then there is the hassle of constructing the unit and then tearing it down every year. Also, never sure if what they build will be strong enough to withstand a stubborn deer.
Growing vegetables is very rewarding and nothing compares to the taste and nutritional value of fresh home garden vegetables. A home garden ensures that your crop is grown organically (no pesticides or fertilizers) and is one of the healthiest things you can do for your body.
About the Inventor and Owner of The Garden Defender  Fence Protection System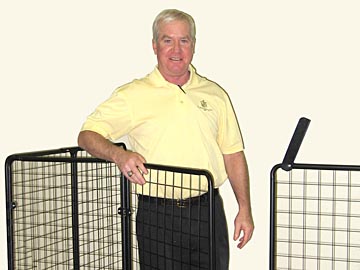 Bob Hannigan
Bob lives in rural New Jersey and sadly gave up vegetable gardening when deer and rabbits were eating more fresh vegetables than his own family. He tried everything, including the annual ritual of rolling out chicken wire and posts, then taking the stuff down and storing a messy roll of wire. To complicate things, his wife not a big fan of chicken wire in the back yard. For better marriage relations, Bob tried growing vegetables, in large pots, on his porch. Initially this was a good thing, since deer and rabbits generally don't like to climb steps. He soon came to the realization that vegetables do not grow well in pots no matter how large.
This is how The Garden Defender  came to be. We can't say that it will affect any of your relationships, but if your spouse/partner likes fresh vegetables, you have eliminated an important variable!